by Ken Pomeroy on Wednesday, September 25, 2013
Here's a histogram of the home team's scoring margin in all conference games over the past ten seasons.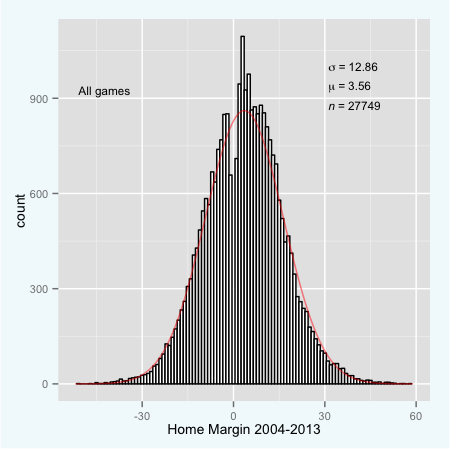 For the most part it has the look of a normal distribution. But it's not exactly normal. Most noticeably, there's the lack of data at the values of 1, 0, and -1. There are many fewer one-point games than Carl Friedrich Gauss would expect (as indicated by the red line depicting the normal distribution), and there are no zero-point games. I have a theory on the lack of zero-point games, and it goes like this: There are no ties in basketball. I think that's airtight. The lack of one-point games is slightly less-obvious, but it too is an artifact of how the game is played. There are fewer one-point games than two-point games (or three, four, five and seven-point games, for that matter).