Prior to last night, the last time Arkansas beat AP #1 was on February 12, 1984 against North Carolina. It was a very odd basketball game. You can find the whole thing on YouTube, although the sound and video are mismatched a bit. Here's the box score.
Anyway, let's talk about the weird things about this game.
1. It was played in Pine Bluff, Arkansas. This makes it the most famous game ever to be played in Pine Bluff, Arkansas. Before moving their token Little Rock-area game to corporately-named arena in North Little Rock, the Razorbacks played an annual game in Pine Bluff. Usually it was against a bad team and often over holiday break, but this was obviously different.
2. It was a return game for a game played in *1979*. Not sure you can find many home-and-homes (or in this case, semi-home and semi-home) played five years apart.
3. NBC did not acknowledge the AP poll. They preferred something called the USBWA poll, which consisted of a mere ten voters. I cannot find any record of this on the internet.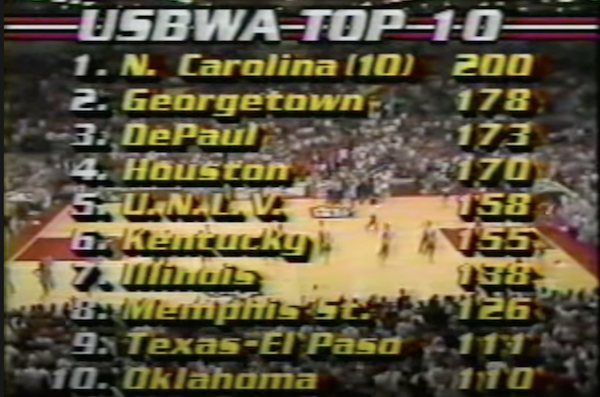 4. On the last play of the game, Matt Doherty inbounds the ball from…inbounds. UNC trailed by one and had one last chance to win, but there was no room along the sideline for an inbounds pass.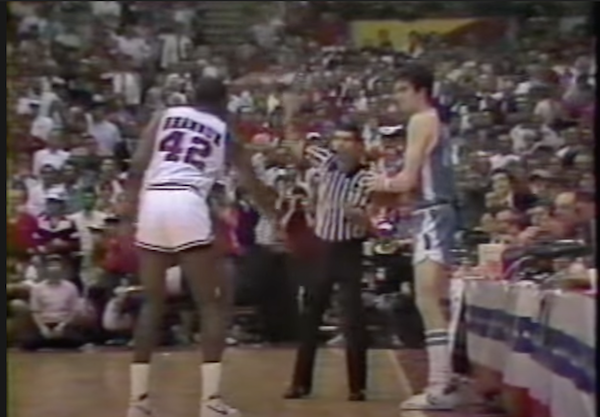 5. Which is fine because the referee tells the defender, Robert Brannon, to please give Mr. Doherty some room, or he will be in for some serious penalties. (Brannon, a *gasp* transfer from Kent State, played a total of 26 minutes that season. The next season, he would go pro in something other than basketball, though. Football! Specifically, the USFL's Portland Breakers where he recorded two sacks in 1985.)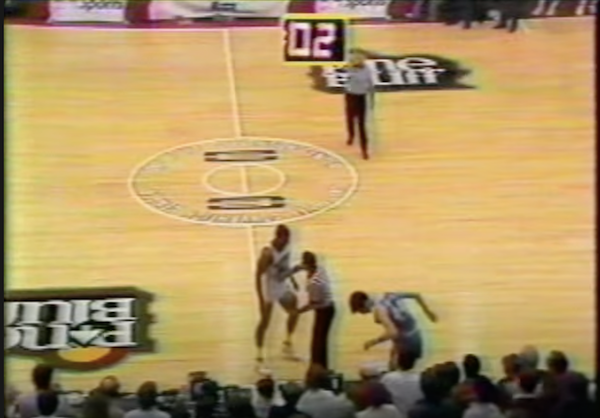 6. This is where Brannon is located when Doherty makes the pass. It was quite possible that both Doherty and Brannon were occupying space on both sides of the sideline.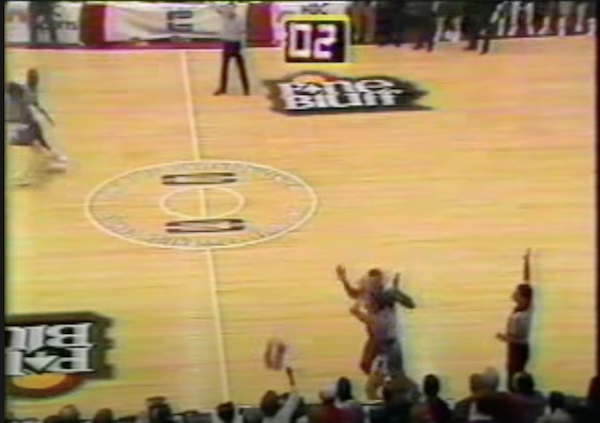 7. Finally, Steve Hale misses the shot and Al McGuire shouts "it's good". In fact, I've reversed the order here. McGuire was always the excitable type, but I'm sure what compelled him to tell the audience the shot was made before it clanked off the rim. He never corrected himself, so if you close your eyes, the road crowd goes crazy after Hale's apparent game-winner.
Anyway, that was basketball in 1984. I'm not one to say things were better in the old days, because in many ways they weren't. But you can never re-create the atmosphere of a big college basketball game in the early 1980's. There were only a handful of televised games each week and with no cell phones the crowd was entirely present, going nuts on every play. And players hadn't figured out they could go to the NBA before they were on two All-American teams, so Carolina featured Jordan, Perkins, Daugherty, and Kenny Smith (who was injured and didn't play in this game).
People weren't obsessed about tournament seeding or mock drafts. It was just one team beating the best program of the era. There was enough joy in that.
But also, players inbounded from inbounds and announcers called buzzer beaters good before they didn't go in. Fun times!