Congratulations to the winner of the 2015 kenpom.com player of the year award, Wisconsin's Frank Kaminsky. Kaminsky ran away with the title, establishing a lead in mid-November and maintaining it through the end of the season. Frank was the go-to guy on a Wisconsin offense that led the country in raw points scored per possession while playing the fourth toughest collection of defenses in the land. The Badgers' adjusted offensive efficiency of 127.9 led the nation by 4.7 points, the largest difference between first and second place recorded since 2002.
Kaminsky finished with an offensive rating of 126.2 while using 28.1 percent of Wisconsin's possessions while he was on the floor. His offensive rating was a whopping seven points better than any other college player that used at least 28 percent of his team's possessions. He made 58 percent of his two-point shots and 42 percent of his three-point attempts, making him the best perimeter shooter among seven-footers that took at least seven three-point attempts. (Frank took 101.)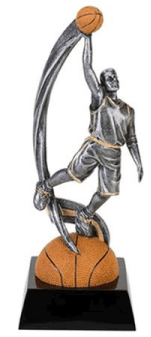 He also had the 24th-best defensive rebounding percentage in the country and he assisted on 18.4 percent of his teammates' made baskets, making him the best set-up man among players his size. Of the 84 players listed at 7-feet or taller, none had a better assist rate than Kaminsky.
While Wisconsin lost to Duke in the title game, Kaminsky's performance against the Blue Devils was worthy of a title. He registered 21 points and 12 rebounds to cap a season where he scored in double-figures in all but one game for a team whose style is not friendly to consistently piling up counting stats. It also concluded a dominant tournament run despite facing some of the best defenses in the game.
Frank Kaminsky joins an exclusive club of past winners of the kPOY, which includes Louisville's Russ Smith (2013 and 2014), Michigan State's Draymond Green (2012), and Ohio State's Jared Sullinger (2011). Congratulations, Frank, and good luck in future hoops endeavors.
2015 kPOY final standings
1. Frank Kaminsky, Wisconsin, Sr. (kPOY rating = 2.794)
2. Jahlil Okafor, Duke, Fr. (1.969)
3. Karl-Anthony Towns, Kentucky, Fr. (1.854)
4. Delon Wright, Utah, Sr. (1.774)
5. Seth Tuttle, Northern Iowa, Sr. (1.746)
6. Stanley Johnson, Arizona, Fr. (1.733)
7. Anthony Gill, Virginia, Jr. (1.478)
8. Kyle Wiltjer, Gonzaga, Jr. (1.475)
9. D'Angelo Russell, Ohio State, Fr. (1.474)
10. Jerian Grant, Notre Dame, Sr. (1.471)