I always wonder why analysts get away with saying a team is good at "rebounding", thereby conflating both offensive and defensive aspects to the skill. Nobody says a team is good at "turnovers" or "shooting" and means that to say a team is good at those things both offensively and defensively.
Before you send the e-mail, I understand why rebounding is referred to differently. It's essentially the same act whether it occurs after a team's own shot or its opponent's. And rebounds were not differentiated statistically until about 1991 so generations before that had no way to distinguish between the offensive and defensive versions. Some of those traditions linger today and I get it. Still, rebounding stats were modernized a few years before the internet happened, yet people referring to rebounding margin in a broadcast are held in higher regard than those who do research using printed encyclopedias.
Things are coming around, though. The Big Ten Network's Dave Revsine is the honorary chair of the Foundation for Rebounding Percentage Awareness and takes great pain during each Minnesota broadcast to inform viewers about the Gophers' offensive rebounding prowess and their puzzling weakness on the defensive glass. There are many others like him, both on the national networks and calling games locally. (These aren't the only ones, but shout-outs are in order to South Carolina's Andy Demetra and BYU's Greg Wrubell for advancing the cause.)
Minnesota's case might seem unusual, but it's not as rare as you might think. The top ten teams in offensive rebounding percentage last season had the following ranks in defensive rebounding percentage: 34, 215, 117, 64, 219, 76, 78, 130, 83, and 25. As David Hess pointed out last season, the correlation in the D-I universe between a team's offensive and defensive rebounding is surprisingly weak. I've plotted the last five seasons of team-level data below.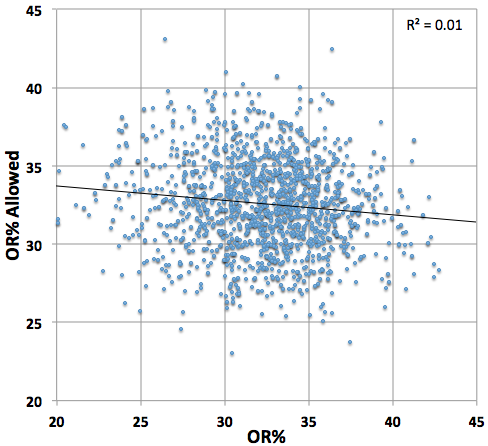 (My executive summary to why rebounding margin is evil comes down to two things: It combines only loosely-related skills, and field goal percentage skews the raw rebounding figures that go into it.)
That's not to say there's no relationship between the two skills at all, though. A very good offensive rebounding team is more likely than not to be above average at defensive defensive rebounding. But, it's rare to be great at both. Of the 100 best offensive rebounding seasons over the past five years, just nine also had one of the top 100 defensive rebounding seasons.
Colorado State leads the nation in rebound margin this season, and I suppose it's fair to say they are a great rebounding team. The only reason I know they lead in rebounding margin is because it's mentioned on nearly every one of their broadcasts. It makes sense, because they currently reside in the top three in the country in both offensive (42.1%, third) and defensive rebounding percentage (77.7%, first).
It's equally interesting that CSU is doing this without a lot of big people. Their effective height ranks 268th. Yes, they have Colton Iverson (6-10, 261 – thanks for the precise weight measurements, CSU), who is indeed a large human being, but the nominees for best supporting role in a rebounding juggernaut go to 6-5 Pierce Hornung, 6-6 Greg Smith, and 6-4 Daniel Bejarano. These guys are front-line players, giving away inches in almost every game they play. Larry Eustachy isn't really doing anything gimmicky – his guards are not involved in rebounding at all. Three guys on the floor, two of them undersized, are responsible for almost all of the rebounds on both ends.
Since there are many teams in the Mountain West that aren't interested in or good at offensive rebounding, I think it's a safe bet that the Rams will finish with the best defensive rebounding percentage in the nation. Their offensive rebounding may slip a little, but since they've grabbed about 39% of available offensive boards in conference play, maybe not by much. Still, what they're doing is rare. Only one team has finished top five on both sides of the glass in the past decade (2006 Texas, who ranked fifth in both).
So yeah, just saying Colorado State is a great rebounding team is accurate and by using rebounding margin, you'll get to that conclusion. But I'd still say it waters down the enormity of their accomplishment this season. It's extremely rare to simultaneously dominate the offensive and defensive glass and it's a feat that can't be appreciated by viewing rebounding as a single entity.