This is a weekly digest documenting the biggest upsets, craziest comebacks, and Alan Williams news of the past seven days.
Biggest upsets
1. Texas A&M over Tennessee (7%), Saturday. It was largely an upset-free week. This was the only game won by a team given less a 10% chance or less to do so. More about it below!
Crazy comebacks
When you think a situation is hopeless, just know that every week, there are cases of teams overcoming the impossible. These are the best examples from this week: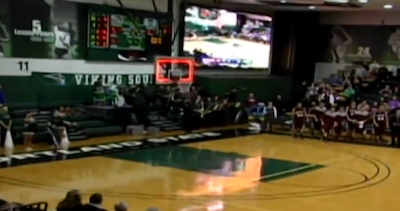 3. Portland St. (1.1%) over Montana, Saturday. Over the past two seasons, the Grizzlies were 38-2 against the rest of the Big Sky. After this loss, they fell to 1-3 to start conference play in 2014. Portland State trailed 56-47 with 2:54 to go but scored 10 straight before a Keron Deshields free throw forced overtime. They played one overtime, then a second (where the Viks below a seven-point lead), and then a third where Portland State prevailed 81-78. It doesn't hurt that PSU crammed a Jerryworld-sized video board into their 1,500-seat gym, which just happens to be in the second-half shooting background of the road team. (box)
2. Elon (0.9%) over Davidson, Thursday. Over the past two seasons, Davidson had gone 39-3 against the rest of the Southern Conference. Their last home loss in conference play was on January 26, 2011. It was a run of 24 straight home wins and it looked good to get to 25 when the Wildcats went on a 17-4 to build a 74-60 lead over Elon with 4:45 remaining. But momentum is there until it isn't and the Phoenix finished regulation on 16-2 run of its own, capped by a Jack Isenbarger three-pointer with 2.4 seconds left. Elon won in overtime, 87-85. (box)
1. Texas A&M (0.8%) over Tennessee, Saturday. At the 14:54 mark of the second half, the Aggies had scored 24 points. Fortunately for them, Tennessee only had 38, but that still left offensively-challenged A&M in a tough spot. Gradually, the Aggies cut into the lead, setting up an improbable three-pointer by Antwan Space with 4.4 seconds left to give A&M the win. The ending would have been much better with a Michael Qualls-style dunk finish, in which case every headline writer in the country would be talking about a Space Jam sequel. All I have for you here is that it appears Space actually tries to launch his shot into outer space, which explains why he was 3-for-17 from long range before he hit the game winner. (box)
Slowest game of the week: Florida State vs. Miami FL, Wednesday. (50 possessions)
On the next Maury: zone defenses and teams unable to cope with them. The ACC is the new home for teams playing zone or pack-line-style man defense. And when you get two of those teams matched up, as we did here, spectators can expect to get cheated out of a bunch of possessions. The Seminoles beat the 'Canes 63-53 on the road, which is another nice win away from Tallahassee for Leonard Hamilton's team. With its conference games averaging 63 possessions per 40 minutes, the ACC now ranks 32nd among the nation's conferences. There are only 32 conferences. So basically, this isn't your daddy's ACC. Well, if you remember the 1982 ACC championship game, it actually is.
Fastest game of the week: Mississippi Valley State vs. Alabama State, Saturday. (82)
The Delta Devils own the distinction of having the fastest defense in the country, which is not something that's going to go in the game notes. That's because their defense can't stop anyone and opposing offense waste little time attacking the rim against MVSU's diminutive front line. Alabama State won this game, 93-62.
Alan Williams Watch:
Think you're really good at basketball? Alan Williams disagrees and he will crush you, at least statistically. UCSB's undersized center piles up stats like nobody else. Ignored by scouts and media alike, this place is occasionally reserved for reporting on Williams' incredible exploits.
Williams went off for 33 and 15 in UCSB's conference opener against Cal Poly last Saturday, but unfortunately that was in a losing effort. The Gauchos took more of a team approach in defeating Long Beach State on Thursday night, with Williams going for 12 and 15, along with two blocks and two steals. His 26% usage rate for the game was his lowest of the year!
Best games of the upcoming week (according to FanMatch, all times eastern):
If you can only watch five games this week, these are the ones to catch.
Before we get to the games, let me just say that Saturday best captures what I love about college basketball. That is to say, data, data, and more data. Traditionally, the Saturday before NFL Championship Sunday is the single day with the most games on the schedule. Starting at 11 AM ET at Rhodes Arena in Akron and continuing until the buzzer sounds at Stan Sheriff Arena in Honolulu about 15 hours later, there will be 150 games involving two Division-I teams. Between about 4:15 and 6:15 there will be about 40 contests going on simultaneously. The ESPN Tip-Off Marathon gets a lot of publicity and the first Thursday and Friday of the NCAA tournament is fun, but annually, no single day competes with the sheer volume of games on Big Data Saturday.
Oklahoma State at Kansas (Saturday, CBS, 4:00.) Some seem to think that a KU win here will lock them in as Big 12 favorites. True, Kansas will be in a good position having already notched road wins against Iowa State and Oklahoma in the bank. But there's actually some pressure on the Jayhawks to hold serve at home against their top challenger here.
Louisville at UConn (Saturday, ESPN, 9:00.) The dismissal of Chane Behanan has been a boon for Montrezl Harrell, who saw an average of 37.5 minutes per game in tight contests against Memphis and SMU. Rick Pitino doesn't have any interest in playing small when it matters and you'd have to expect that philosophy to continue against a UConn team, that while not as big as in years past, contains some bothersome length up front.
Creighton at Villanova (Monday, Fox Sports 1, 7:00) The Bluejays have to play at Providence on Saturday. Some might call it a trap game with the Villanova showdown looming, but trap or no, that game is far from a guaranteed win for Creighton. A win, though, would set up the game-of-the-year (part one) in the Big East. It will be the league's best offense against its best defense.
Iowa at Michigan (Wednesday, Big Ten Network, 7:00) I have a feeling Iowa will be Team Underrated heading into the tournament because their conference schedule will likely end up being the toughest in the country. They figure to have more losses than if they would have played Arizona's or Syracuse's or even Michigan State's conference schedule. This is the first of two games they have against the Wolverines.
Wisconsin at Minnesota (Wednesday, Big Ten Network, 9:00) My question when Indiana students rushed the floor after beating Wisconsin wasn't whether they should or shouldn't have done it. It was: When was the last time somebody rushed the floor after beating Wisconsin? I dare Gopher fans to do it again should they pull off the win here. Let's make Wisconsin the new Duke.