It's time to start up the 2014 kenpom.com player of the year tracker. Back in December 2010 when I created the kPOY the goal was to have an objective way to identify the best college players. There's more background on the logic behind the award here and here. Briefly, this award is based on a player's value to his team in combination with his team's strength. This has nothing to do with a player's NBA potential nor should be taken as such. Nor is it attempting to predict the outcome of any other human-based POY award. It's simply one system's measure of a player's value.
Past winners of the kPOY include Russ Smith (2013), Draymond Green (2012), and Jared Sullinger (2011).
I'll review the initial top ten here. The list here will be constantly updated as the more data becomes available.
10. Jayvaughn Pinkston, Villanova. The bottom of the kPOY will change from day-to-day – even when the players involved don't play – because the ratings difference between #9 and #16 or so is very small. Pinkston gets the honor today. He got swallowed up by the Syracuse zone, but otherwise has been consistently good in a number of areas.
9. Jabari Parker, Duke. The general consensus seems to be that Parker is on the heels of Doug McDermott for POY honors. The kPOY values defense and Duke, and probably Parker by extension, come up short in this area. Furthermore, Parker's last four games haven't been gems offensively, either. It's possible he can make a run at the kPOY with a strong second half, but in the human POY race he's living off reputation right now.
8. DeAndre Kane, Iowa State. With the Cyclones frequently featuring multiple ball-handlers on the floor, Kane is free to use his post-up game to exploit mismatches. The benefit has been an increase in fouls drawn and a decrease in three-pointers attempted.
7. Russ Smith, Louisville. The 2013 kPOY is putting up similar numbers to last season. If Louisville was #1 in the country, he'd be in position to repeat. When I struggle to explain the logic behind the kPOY, I prefer to borrow Smith's explanation: "two plus two is four".
6. Julius Randle, Kentucky. Randle's the top-ranked freshman on the list. He's clearly the Wildcats' go-to-guy offensively and a monster rebounder to boot.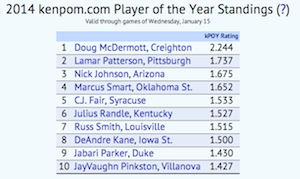 5. C.J. Fair, Syracuse. Fair isn't all that efficient, but he's a plus-defender, uses a lot of possessions, and plays every meaningful minute for the Orange. SInce the kPOY is concerned about overall production, minutes matter.
4. Marcus Smart, Oklahoma State. Smart's candidacy could gain strength if Oklahoma State remains a contender in the Big 12 despite losing Michael Cobbins and Stevie Clark. Smart's alleged improved three-point shooting appears to have been partly a mirage, but he's still one of the country's premier thieves and he earns a bunch of free throws.
3. Nick Johnson, Arizona. Arizona's offense is well-balanced, so despite being viewed as the consensus #1, they've had trouble generating a viable POY candidate. But Johnson's made 57 percent of his twos and 38 percent of his threes as the Wildcats most-frequent per-minute shooter and deserves more attention.
2. Lamar Patterson, Pittsburgh. Find the team-leader on a slow-paced squad playing well but without quality wins and you'll find someone that's underrated. Patterson is easily the Panthers' most efficient player and also their most involved in the offense. He's made 60 percent of his twos and 44 percent of this threes. Despite playing the wing, he's second in the ACC in assist rate among active players. Pitt will largely get ignored the rest of the season because they're almost surely going to lose a few conference games the rest of the way. Patterson will likely get ignored, too, but the kPOY will be watching.
1. Doug McDermott, Creighton. The kPOY agrees with the national consensus at the top and McDermott has put quite a bit of distance between him and field. However, if Creighton finds itself falling into the bottom end of the top 20, the door will be open for a challenger. McDermott's shooting percentages are down from last season, but his usage is up and he's committing fewer turnovers on a team that may win the underrated Big East.