UNLV beat New Mexico 80-63 in a 64-possession game Saturday night. I was there. This is what I saw.
Mike Moser is great offensive rebounder considering his shot selection.
I don't think there's a useful position descriptor for UNLV's Mike Moser. Whatever you want to call him, he was a busy man on Saturday night, taking 16 shots, grabbing 13 boards and recording two blocks. It's not Moser's activity that makes him unique, though. It's that his shot selection skews towards the perimeter, yet he's a major factor on the offensive glass. This is best explained in graph form.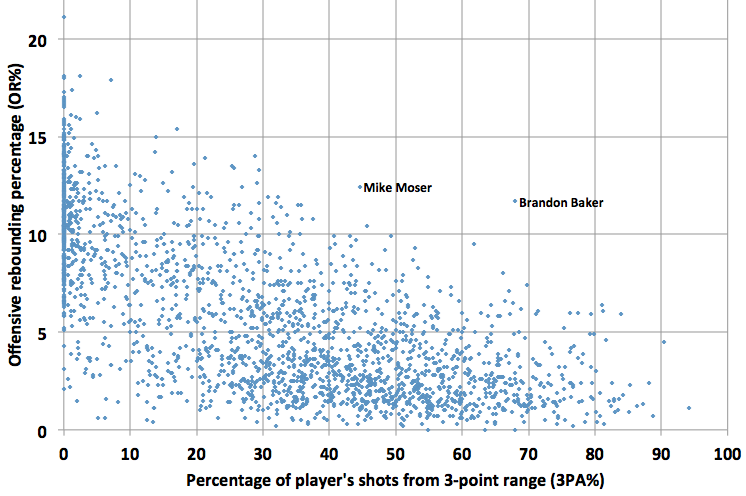 What you see here is the distribution of D-I players that have played at least 40% of their team's minutes this season, according to their OR% and 3PA%. Two players have separated themselves from the cloud, er, crowd. Moser and Belmont's Brandon Baker. Even though Baker takes a higher percentage of his shots from three-point range, he takes many fewer shots than Moser in general (Baker's %Shots is 16.2 to Moser's 25.6), and thus has a little more time to hang out near the rim than Moser does.
Carlos Lopez is no longer a minutes-thief
I was not a big fan of UNLV center Carlos Lopez last season mainly because I felt like he was taking minutes that rightfully belonged to man-child Quintrell Thomas. But this year you could make the case that Thomas is stealing Lopez's minutes. If it weren't for his part-time status, Lopez would be getting more credit for an amazing turnaround in his game. He's gone from an ORtg/%Poss combo of 96/23 as a freshman to 126/21 as a sophomore and has made 73% of his twos so far. He didn't disappoint in this game, either, getting to the free throw line 14 times in 14 minutes of action. Free Carlos!
Where has Steve Alford's defense gone?
Back during Monte Carlo sim-time, I mused about Alford finally channeling the magic of the top-ranked '06 Iowa defense again. But the last two games have done a lot of damage to the Lobos' defensive rating, and for good reason. The 1.25 points per possession surrendered to UNLV was the sixth-best offensive performance for the Rebels this season, with the top five occurring against teams outside the top 150. San Diego State has its third-best offensive game of the season (1.26 PPP) against New Mexico last Wednesday.
And the Aztecs' two best games occurred against a non-D-I and 271st UC Riverside. You can't single out just one weakness for New Mexico's decline. The Lobos can't stop dribble penetration, and the breakdowns leave the perimeter wide open too often. But also, whomever Alford plugs into the 3 and 4 spots are atrocious on the defensive glass. It's essentially up to Drew Gordon to prevent second-chances, and as good as Gordon is at rebounding (tenth in the nation in DR%), he needs help.