During championship week, there's lots of sympathy going around to teams that win their regular-season crown but fail to win the conference's automatic bid. Some sympathy is deserved, but most of these teams are the big dog in their conference in terms of resources and tradition. Murray State and Iona will be back next season as their respective conference's favorite and they'll be in the mix to win the automatic bid. Sure, it sucks that this year's seniors won't be a part of that, but the fan base and the coaches will live to fight another day in the very near future.
True sympathy should be reserved for Yale. The Bulldogs haven't been to the tournament in 53 years. This season has been different from most of those seasons as they've been in a season-long battle with Harvard for the top of the Ivy standings. They positioned themselves to end the drought after winning at Harvard in the season's penultimate game and just needed to win at Dartmouth in the season finale to clinch a spot in the 68-team field.
The Dartmouth game was not expected to be an easy win, but Yale led for all but a handful of seconds. Trailing by one, Dartmouth had to go the length of the court with 2.3 seconds. And if Yale's Justin Sears doesn't touch Dartmouth's wild full-court pass (or just gathered it when he did touch it) before it went over the end line, Yale would have secured the automatic bid.
But that's not how it went down. Sears knocked the ball out of bounds and Dartmouth converted on its subsequent BLOB play for the unlikely win. Yale fans are left with this as a record of the game.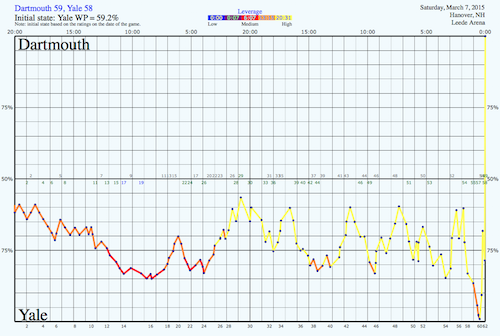 But Yale gets a second chance with a winner-take-all playoff game against Harvard at The Palestra on Saturday afternoon. The teams are evenly-matched and split their regular-season contests. If Yale wins, the Dartmouth game will be a footnote in history, and if Harvard wins Yale may go quite a while until they get that tournament appearance. It's not so much that Yale is consistently bad. They've been decent in recent seasons, and were in a playoff game in 2003. If it doesn't happen tomorrow, maybe it won't be much longer before Yale wins the Ivy. Justin Sears is back next season, and that alone is reason to be optimistic.
But without a tournament, you have to have a great season to get a tournament bid. For one of the few times in program history, Yale had a great season and in most years it would be enough to earn a bid. Only once since 2002 has a team finished in the top 80 of my ratings and not won the Ivy's bid. Yale's at #75 as I write this, but in the Ivy's Tommy Amaker era, that might not be good enough.
Ivy League
All-kenpom.com: Wesley Saunders, Harvard (kPOY); Justin Sears, Yale; Javier Duren, Yale; Shonn Miller, Cornell; Maodo Lo, Columbia.
March 14 at Philadelphia.
           Champ
1 Yale      53.1
1 Harvard   46.9