If you are interested in golf, you are aware that Tiger Woods just won his fifth Masters, and if you are not interested in golf I dare you to keep reading. The most famous Masters prior to this year was in 1986 when Jack Nicklaus won his sixth green jacket. I barely remember it so I decided to go back and watch the final round though the miracle of YouTube and see how the coverage compared to 2019. Since it occurred in my lifetime, I was expecting a low-tech version of the way golf is covered today. It was barely more than 30 years ago, how much could have changed? It turns out quite a few things. Please join me on this wild ride through history.
3:11 – While some people think modern coverage has been a bit obsessed with Tiger Woods, Jack Nicklaus's ascent into golf stardom was similarly covered. This occurred before the internet, Sportscenter, or even cable TV in general existed. When people still got their sports news through the newspaper, newspapers were detailing Jack's college performances and anticipating when he might turn pro in the same way ESPN covered Tiger's more brief time at Stanford. But by '86, the obsession with Nicklaus had apparently been reduced to Mickelsonian levels. Jack was a mere four shots off the lead when the broadcast starts, but that's not good enough to make the first page of CBS's six-man leaderboard, which apparently was all that could fit on old-time TV screens. It's also not good enough to make the second page. It was a really bunched up leaderboard, but alas, Brent Musberger doesn't even give Jack a mention as he sets the scene.
10:25 – I think I have figured out why there was no mention of Nicklaus. It's clear that the CBS crew wanted to emphasize the international flavor of the Masters. Four of the five players within a shot of the lead at the start of the round were not from the United States. How would CBS keep the attention of Americans? Well, they decide to create some conflict and they chose Steve Melnyk to carry the network's water. As he waits for Nick Price to putt on the 5th hole, Melnyk asks Gary Player, who's hanging out in Butler Cabin, and, uh, South African: "Gary, do you like seeing these foreigners taking part here?" 
38:00 – Seve Ballesteros has emerged as the tournament's leader at -8, but he bogeys and then we immediately get our first view of Nicklaus. He's on the 10th at -3. Jack is putting for birdie and it's on tape. That's one thing that hasn't changed over the years. If the network shows a shot on tape from a player who you haven't seen before, you know something unusual is about to happen. Nicklaus makes the putt and is suddenly just three shots behind.
Even though we have a storyline CBS couldn't have dreamed of, he still doesn't get the Tiger treatment. We don't see Jack's drive or approach on 11 or his drives on 13, 14 and 15. This may have been a limitation in the number of cameras CBS had at its disposal. Or perhaps drives were so difficult to follow on low-def over-the-air TV that maybe it was pointless to show them. Regardless, both Ballesteros and the charging Greg Norman were getting more attention until late in the broadcast.
45:30 – We get our first look at CBS's new shot-tracker technology. Pretty cool, huh?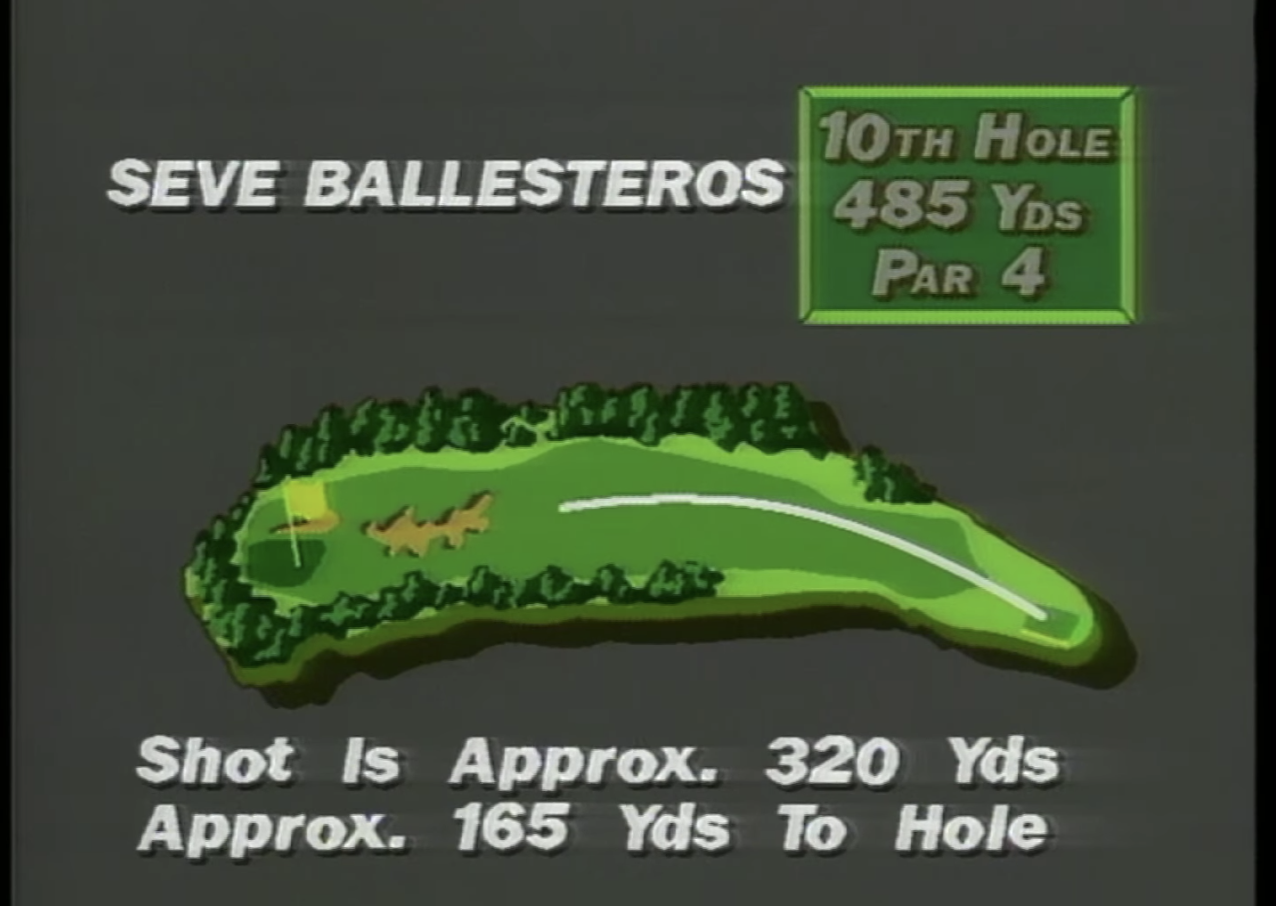 49:20 – Nicklaus makes a 20-footer for birdie at 11 and is within two of the lead. It's starting to get real.
58:00 – Nicklaus is lining up at 8-footer for par on 12 and Melnyk notes that his son Jackie has been helping Jack line up putts this week. "I think if the truth be known, Nicklaus's vision is not as good as it used to be." You occasionally hear this as part of the legend of his victory, that the man couldn't see his shots land. But not being able to read greens as well? The man was a superhero.
1:12:35 – While the Masters apparently had similar rules in place for broadcasters as it has today, they were not followed as rigidly. As Bob Murphy discusses the situation for Greg Norman's upcoming pitch shot, he refers to the non-participating humans around the green as both "people" and "the gallery" in the span of seconds. In 2019, one is only permitted to refer to them as "patrons", even when it barely makes grammatical sense, lest one doesn't want to broadcast the tournament ever again. 
1:42:00 – Nicklaus knocks in an eagle putt at 15 to get within two shots of the lead, after which Ben Wright exclaims, "Yes Sir!" It was the original Yes, Sir! Ben Wright would be kicked off of CBS ten years later for bizarre comments about lesbians and history was sanitized to forget who authored the original Yes, Sir! Never forget, it was Wright.
1:47:30 – Nicklaus's tee shot on 16 ends up about six feet from the hole. Nantz mentions that Nicklaus doesn't know how close it is because the pin is right behind a bunker. Tom Weiskopf, who's hanging out in Butler Cabin makes another mention of another Jack's handicap: "He can't see. Any other player would know exactly where the shot ended up." This probably added to Jack's legend. Not only is he 46, but he can't even see where his shots are ending up. We didn't even need the storyline with the foreigners. CBS sacrificed Steve Melnyk's reputation for this but all along we could have played up the angle of a blind golfer winning the Masters.
(While I'm here, one change to the broadcast has been the ending of commentary from Butler Cabin but it played a big role here with Player earlier and now Weiskopf. Oddly, Player had to take off in the middle of the broadcast because he had a plane to catch. That was the reason given on the broadcast, anyway. I prefer to think he was disgusted with Melnyk.)
1:54:00 – Ballesteros has about 200 yards for his second shot at 15. He pull hooks it into the pond guarding the green. This is one of worst shots by a leader late in the final round of a major, but it's largely forgotten. This was before the HD era or even one with multiple cameras on the final holes, and there's no replay shown of this shot. The 15th is a hole where eagle putts were common even in 1986, but Seve ends up bogeying it, opening the door for Jack. Wright says, "And the foreign invasion is reeling under the Bear's attack." OK, we get it. It's up to Jack to single-handedly prevent foreigners from taking over golf.
Right after Seve's debacle, Nicklaus is teeing off of 17 and Verne Lundquist mentions that he's "prowling after his 20th major win". There was a time when U.S. Amateur titles were considered majors and that time was as late as 1986. Eventually that convention changed, but when that occurred isn't clear. Tiger would be 3 behind Jack regardless, but if you follow golf at all, you know that 18 is the number Tiger is chasing. After this event, the accepted record was 21.
This was also the first tee shot viewers saw from Jack and maybe now I understand why the networks were reluctant to show them. It goes off line and as the camera frantically pans the fairway,  Lundquist is forced to admit, "We're still searching. It's not good, whatever."
2:06:00 – Jack makes his birdie putt on 17 to take sole possession of the lead and we get Verne Lundquist's timeless "Yes, sir!" to punctuate it. Somewhere in the 15th tower, Ben Wright seethes.
2:20:00 – Jack taps in for par at 18 and takes the clubhouse lead but things are far from over. The morning leaders are just now hitting their tee shots on 16. The biggest threat is Greg Norman who will make birdie at 16 to get within one.
2:26:45 – Norman hits his drive on 17 and we get another case of it ending up in a mystery location. The viewers just get a wide shot of the would-be landing area as Pat Summerall mutters, "pulled it left". It's kind of like a bad video game glitch.
2:41:00 – Norman's setting up for his approach to 17, but he's behind a couple of trees and I'm not sure if he has to hit between them or around them. Whatever he did was some kind of low runner that turns out to be brilliant and scoots up to about 12 feet from the hole.
2:46:00 – Norman makes his birdie and we get an equally emphatic "Yes, sir!" from Lundquist, who must have thought that if he uses that line enough, he'll bully Ben Wright out of any claim of ownership. (Alex Myers went in-depth on this issue in Golf Digest in 2011.) That was an amazing birdie from Norman after a horrific tee shot. One that doesn't fit the choker narrative that haunted him over his career. Norman and Nicklaus are tied as the Shark heads to 18.
2:41:30 – After a perfect tee shot by Norman, a playoff appears imminent and CBS shows us a shot of the 10th green which is ringed four or five deep with spectators anticipating the first hole of the playoff.
2:46:00 – We're told Norman is 200 yards out and has a four-iron. And 0.1 seconds after the ball is struck, the crowd groans. We see Norman bow his head. It's a huge slice. The ball apparently lands 20 rows deep in the middle of the greenside gallery. Let the narratives about Norman begin. Also, Venturi and Summerall both refer to the gathering as a gallery in this clip. How inappropriate!
2:50:00 – Norman's shot is pretty much impossible to get close, but he uses the slope of the 18th green to within 12 feet or so. However, he would miss the putt, clinching Jack's victory.
2:53:00 – We get the disembodied head graphic which appears to be the way CBS acknowledged Masters victories in the mid-80's. Just a graphic of Jack looking skyward plopped onto an image of the 12th green. For a couple of seconds, there are no annotations or nothing. You won Jack, and we made this picture for you.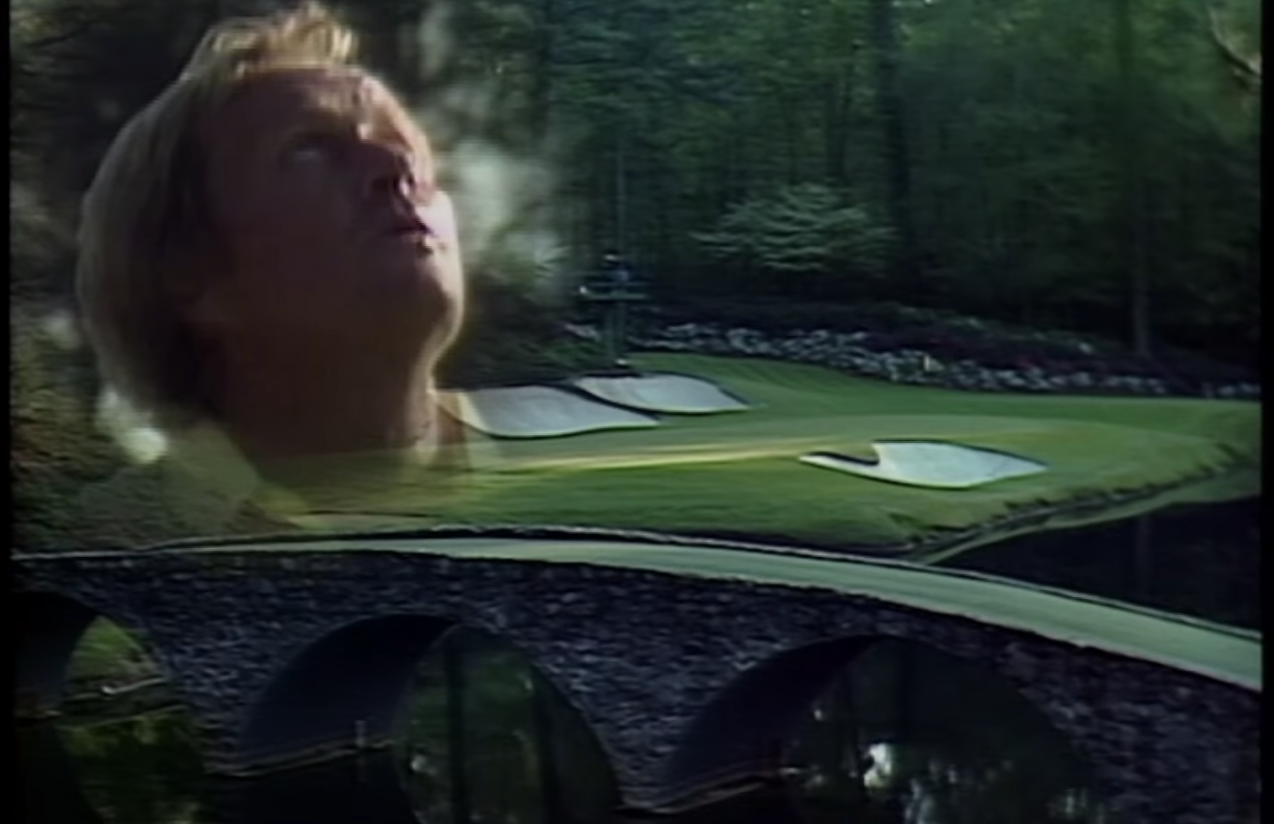 2:57:00 – We're in Butler Cabin with Brent Musberger and the Masters chairman, Hord Hardin, for the Green Jacket ceremony. Sam Randolph won the low amateur. His professional career never quite took off, but he was low amateur in three majors, has a wikipedia page and was in Butler Cabin when Jack was given his sixth Green jacket.
3:02:00 – The chit-chat, much like this piece, seems to go on forever, but it was only five minutes or so. Musberger wasn't trying to make Jack cry like Nantz did with Tiger. Finally, Bernhard Langer slips the jacket onto Jack and we see a smiling Nicklaus as the broadcast ends. By the way, the ageless Langer was among the pros waiting to congratulate Woods as he walked off of 18 on Sunday, the only player to make the cut in both '86 and '19.
And finally, I'd like to note that after the final round in '86, Greg Norman offered a bold prediction: that one Greg Norman would go on to beat Nicklaus's mark of six Masters championships.

He would come up seven short.