Congratulations to the winner of 2016 kenpom.com player of the year award, North Carolina's Brice Johnson. The senior forward finished the season with a 127 offensive rating, which was third in the country among players that used at least 24 percent of their team's possessions. He got there by making 61 percent of his field goal attempts and 78 percent of his free throws, which produced a true shooting percentage of 64.9, easily a career high and the 25th-best figure in the land.
He also produced on the defensive end. His defensive rebound percentage of 28.5 ranked 13th in the country, and he produced solid block and steal percentages of 5.5 and 2.2 respectively. As a result, he racked up 18 game MVP's over the course of the season, good for fifth-most in the country. He earned a total of eight his first three seasons in Chapel Hill.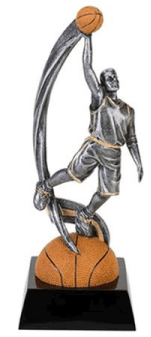 The best moment for Brice Johnson was a 39-point, 23-rebound, three-block, three-steal effort at Florida State on January 4th. It was one of just three 30/20 games across the country this season. In that case it helped that Johnson played 37 minutes in an 88-possession game, but the kPOY is a tempo-neutral award and Johnson played productive and efficient basketball given the possessions available to him.
He also played his best against the best. In 18 Tier A games, Johnson recorded an offensive rating of 127.5 on 25% usage. Both of those figures were above his season-long average.
Johnson closed the season with 11 consecutive games with an offensive rating of at least 120. The only time during that stretch where his usage dipped below 20 percent was the national title game where Villanova limited him to 19 percent. Unlike most player of the year awards, the kPOY considers postseason play. While Oklahoma's Buddy Hield led the regular season from the first week of the season to Selection Sunday save for a handful of days, the NCAA tournament success for Johnson and his team pushed him to the top spot in the award by the end of the NCAA tournament.
Brice Johnson joins an exclusive club of past winners of the kPOY, which includes Wisconsin's Frank Kaminsky (2015), Louisville's Russ Smith (2013 and 2014), Michigan State's Draymond Green (2012), and Ohio State's Jared Sullinger (2011). Congratulations, Brice, and good luck as you embark on a professional career in whatever vocation you choose.
1. Brice Johnson, North Carolina, Sr.
2. Malcolm Brogdon, Virginia, Sr.
3. Buddy Hield, Oklahoma, Sr.
4. Denzel Valentine, Michigan State, Sr.
5. Josh Hart, Villanova, Jr.
6. Perry Ellis, Kansas, Sr.
7. Georges Niang, Iowa State, Sr.
8. Domantas Sabonis, Gonzaga, So.
9. Thomas Walkup, Stephen F. Austin, Sr.
10. Anthony Gill, Virginia, Sr.