Congratulations to the winner of the 2014 kenpom.com player of the year award, Russ Smith of Louisville. Smith earned his second consecutive kPOY by posting a 114 offensive rating while using 31 percent of the Cardinals' possessions when he was on the floor. That was the fourth-highest offensive rating among players using at least 30 percent of their team's possessions. In addition, he recorded 3.96 steals per 100 possessions, which ranked 32nd in the nation, while playing 29 minutes per game for the nation's fourth-ranked defense. In 2014, no player combined offensive production and defensive impact like Russ Smith. Russ joins past winners Jared Sullinger (2011), Draymond Green (2012), and himself (2013).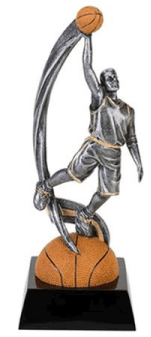 You might be wondering about Creighton's Doug McDermott, who won every other player of the year award. McDermott was clearly the best offensive player in the country this season, and was leading the kPOY race heading into the NCAA tournament before being passed by Smith and Connecticut's Shabazz Napier. But after a lopsided tournament loss to Baylor (who in turn lost badly to Wisconsin), Creighton finished with the 152nd-ranked defense and it is going to be difficult to win the kPOY under those circumstances.
McDermott's humility and incredible career scoring marks allowed him to avoid the scrutiny that past player of the year contenders Jimmer Fredette, J.J. Redick, and Adam Morrison received on the defensive end. The kPOY does not consider personal character nor prior season production, though by all accounts, Smith rates well in both, if not as well as McDermott in the latter. However, unlike most player of the year awards, it does attempt to value defense.
The kPOY also considers what happens during the most important time of the season. And while Russ didn't necessarily distinguish himself offensively in the tourney in the way that say, kPOY runner-up Shabazz Napier did, Smith did lead his team to the Sweet 16 where the Cards lost to Kentucky, who eventually navigated a difficult path to the championship game. Team performance obviously matters in any player of the year award, and Russ Smith played a critical role on both sides of the ball for one of the best teams in college basketball.
Oh sure, it's not easy or maybe even sensible in a lot of cases to exert yourself defensively when you are so valuable offensively. But that's what distinguishes Russ Smith from the field. He was a contributor on the defensive end on a very good defensive team. And he still managed to be Louisville's most important player offensively, taking on additional point guard duties this season.
Smith reaped the benefits from the crackdown on hand-checking, seeing his two-point and three-point percentages rise significantly from last season as he continued to improve his shot selection. Playing more possessions as a point guard, he assisted on a career-high 31.6 percent of his teammates' made baskets. The kPOY formula is more complicated than two plus two equals four, but Russ Smith has mastered it over the past two seasons. Congratulations, Russ, you were the most productive player in the country again this season.
2014 kPOY final standings
1. Russ Smith, Louisville, Sr. (kPOY rating = 1.882)
2. Shabazz Napier, Connecticut, Sr. (1.820)
3. Doug McDermott, Creighton, Sr. (1.778)
4. Nick Johnson, Arizona, Jr. (1.656)
5. Jabari Parker, Duke, Fr. (1.647)
6. Sean Kilpatrick, Cincinnati, Sr. (1.506)
7. Xavier Thames, San Diego St., Sr. (1.491)
8. Cleanthony Early, Wichita St., Sr. (1.468)
9. Jordan McRae, Tennessee, Sr. (1.465)
10. Jarnell Stokes, Tennessee, Jr. (1.450)