This is a weekly digest documenting the biggest upsets, craziest comebacks, and Alan Williams news of the past seven days.

Biggest upsets
1. New Orleans 71, UTEP 69, Monday. (2%) Whenever I see an upset of this magnitude, I am forced to wonder if there's something wrong with the ratings that feed the predictions. New Orleans returned to Division I last season after a two-year hiatus and went 8-18, which included four wins over teams outside of Division I, zero road wins, and their best victory was over the 263rd ranked team on this site. They had played four games against D-I teams this season and lost them all by double-digits. But they actually hung around with LSU for a half and weren't embarrassing against Minnesota. Only time will tell if this is truly the shocking win the computer thinks it is.
2. Montana State 72, Portland 69, Sunday. (8%) Portland had put together a nice portfolio to start the season. Each of their six wins was by double-digits, and they looked respectable in road losses to Michigan State and Oregon State. The Bobcats, meanwhile, haven't truly sucked in any one category, but they are pretty bad at most basketball-related things. (Except defensive rebounding, where they rank fifth in the nation. In the rare event opponents miss a shot, they shouldn't expect on a second chance.) But for one night in Portland, they made shots, avoided a bunch of turnovers, and kind of defended OK.
3. Saint Peter's 83, Seton Hall 80, OT, Saturday. (10%) Welcome back, Seton Hall. This loss wasn't as bad as the earlier loss to Fairleigh Dickinson which landed you in this section, but it's still the third-biggest upset of the week. The Hall's Brian Oliver hit a three to force overtime (which was either from "the top of the key" or "in front of half court" depending on who you believe), but the Peacocks persevered for what is easily their best win to date.
Update: Saint Peter's assistant coach Matt Henry provides a screen grab of Oliver's shot location. As he says, "the truth is always somewhere in the middle."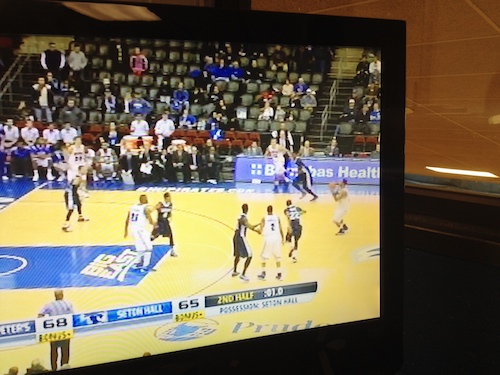 Crazy comebacks
When you think a situation is hopeless, just know that every week, there are cases of teams overcoming the impossible. These are the best examples from this week:
1. Princeton (0.4%) over Penn State, Saturday. Princeton trailed 60-42 with 6:24 left before closing regulation on a 24-6 run to force overtime, going on to win in OT 81-79. It was the first game at Rec Hall since Penn State moved into the Bryce Jordan Center midway through the 1996 season. It seems like a campy tradition to play a game there every season. I'm guessing the idea gets scrapped. Princeton has been a part of an Ivy League resurgence and the Tigers have played well enough to consider the possibility of Harvard not winning the Ivy League (even though Harvard has played quite well themselves). Princeton's the only team in the country to have taken more three-pointers than two-pointers. (box)
While Princeton takes the most threes as a percentage of its field goal attempts, they are not the team getting the highest share of its offense from the three-ball. Take a gander at Colgate. The Raiders lead the country in three-point accuracy and are third in 3PA%. The result is that a whopping 47% of their points have been scored as a result of a three-pointer. By comparison, the subject of Zach Lowe's piece on the three-point boom in the NBA, the Rio Grande Valley Vipers, get about 40% of their points on threes. Matt Langel, your D-League job is coming soon!
2. Norfolk State (1.8%) over Boston University, Sunday. Norfolk State trailed 67-59 with two minutes left but score the last eight in regulation to force overtime, where they would prevail 86-82. It's slightly amazing that the Spartans comeback required no fouls. (box)
3. New Orleans (1.8%) over UTEP, Monday. The Privateers were down 12-8 with 15:38 in the first half. Not exactly a comeback, but improbable nonetheless. (box)
Slowest game of the week: Cincinnati vs. Pittsburgh, Tuesday. (48 possessions) Does anybody miss the old Big East yet? I mean, who wants Creighton and Villanova when you can have these two teams grinding out possessions for 25 seconds or more before the inevitable missed 15-footer produces a foul on the ensuing rebounding scrum.
Fastest game of the week: South Dakota vs. Morehead State, Thursday. (83) This game was noteworthy for a few reasons. Morehead State scored 120 points in a regulation game, the most this season. The Eagles' Drew Kelly scored 40 points after having scored in double figures just twice previously this season. And Kareem Storey recorded 16 assists, the most by any player this season.
Alan Williams Watch:
Think you're really good at basketball? Alan Williams disagrees and he will crush you, at least statistically. UCSB's undersized center piles up stats like nobody else. Ignored by scouts and media alike, this place is occasionally reserved for reporting on Williams' incredible exploits.

Williams had a chill week. Foul trouble limited him to 23 minutes against San Diego where he posted 11 points and seven rebounds in a 72-61 win. A 53-possession game limited him to 18 points, 11 rebounds, and five blocks in a 57-54 win over Troy last night.
Best games of the upcoming week (according to FanMatch, all times eastern):
If you can only watch five games this week, these are the ones to catch. There will be no week in review next week, so I've included the best from next weekend as well.
UMass vs. FSU (Saturday, 2:00, SUN Sports) Florida State is among the tallest teams in the land and UMass has a 5-9 point guard. Sounds like the premise for a hilarious sitcom.
Michigan State at Texas (Saturday, 4:00, CBS) Six weeks ago, Rick Barnes couldn't coach. Now people think he's a viable coach of the year candidate.
Michigan vs. Stanford (Saturday, 8:30, FOX Sports 1) A week ago, Johnny Dawkins couldn't coach. Now, well, I guess the jury's out pending the result of this game.
Villanova at Syracuse (next Saturday, 2:00, CBS) Villanova started the season unranked, but if it wins in the Dome, the Wildcats will be in the discussion for a one-seed.
Louisville at Kentucky (next Saturday, 4:00, CBS) Kevin Ware isn't sure if this worth watching.