The story this week at the Wells Fargo Championship has been the poor quality of the greens. After a harsh winter and perhaps some questionable efforts to nurse them to health in recent weeks, the greens at Quail Hollow were borderline unplayable days before the tournament began on Thursday. Only the finest care and attention from the PGA Tour over he past week has allowed them to be playable.
However, barely playable is probably an accurate description of what the pros are facing this week. Several players withdrew earlier in the week, with Ian Poulter being the most transparent about his reasoning. On Friday, Sergio Garcia chipped on what would have normally been a six-foot putt due to some irregularities in his path. (ShotLink actually recorded Justin Hicks as missing a 7-inch putt while recording a double-bogey on the seventh hole yesterday, but I'm chalking that measurement up to a glitch.)
The poor conditions are apparent in the numbers as well. For instance, at last week's Zurich Classic in New Orleans, players missed a total of six two-foot putts during the four rounds of play. Through two rounds of the Wells Fargo, players had already missed 27 two-footers. And the putting woes extend to all distances. The following graph illustrates the make percentage for golfers at each distance out to 30 feet for each of the last two PGA tournaments.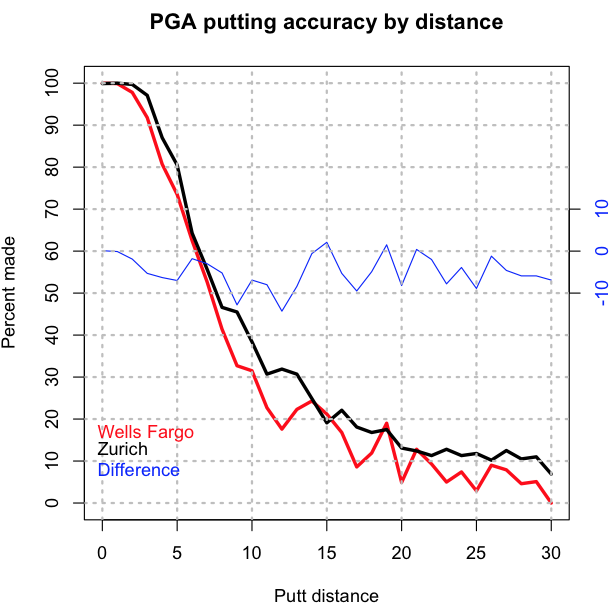 At virtually every distance out to 30 feet, fewer putts are rolling in. Two-footers are normally virtual tap-ins for the pros – at the Zurich, just 0.3% of those attempts were missed. Through Friday's action, 2.2% of two-footers had been missed, making it something less than a formality. Three-footers that were missed at a 2.9% rate at New Orleans are being missed at a 8.2% rate at Charlotte. Longer putts have become more of a prayer, too. At the Zurich, 11.3% of putts between 20 and 30 feet went in the hole. So far at Quail Hollow, just 6.4% of those putts have dropped.
But is any of this significant? After all, we are talking about what some people are describing as the worst greens seen on tour in many years. What does that mean in professional golfing terms? One way to think about it is that players are getting a 20-30% distance penalty on the greens. Accuracy from three feet at Quail Hollow is roughly what it was from four feet at the Zurich. A 20-foot putt is going in at the rate of a 27-footer at the Zurich. (This isn't a perfect translation, of course. For some reason there is less of a penalty in the 6-8 foot range.)
I don't know if that's a big difference or not, but I do know that Phil Mickelson has been largely unaffected by this reality. I don't think it's hyperbole to say the last two days have been some of the best putting of Mickelson's life. Golf analytics is in such a state that we can't know this for sure. It's also in a state that the people covering the event this week are probably wholly unaware of what he's accomplished. And I'm guessing if anyone asked Phil, he'd probably laugh at my statement. However, here's a summary of his life on the greens in the first two rounds.
Rd Hole  1st Putt  In?  2nd Putt
 1  10     7'5"     Y  
 1  11     7'5"     Y  
 1  12     4'5"     Y  
 1  13    13'11"    Y  
 1  14     3'2"     Y  
 1  15    14'8"     N     0'9"
 1  16     8'7"     Y  
 1  17    34'7"     N     0'8"
 1  18    18'1"     N     1'7"
 1   1     9'2"     Y  
 1   2    17'4"     N     2'0"
 1   3    34'9"     N     2'0"
 1   4     7'5"     Y  
 1   5     6'1"     Y  
 1   6     2'11"    Y  
 1   7    49'0"     N     2'8"
 1   8    12'11"    N     1'6"
 1   9    19'0"     Y  

 2   1    13'6"     Y  
 2   2    14'5"     Y  
 2   3    47'11"    N     4'5"
 2   4     2'2"     Y  
 2   5    15'1"     N     0'11"
 2   6     2'8"     Y  
 2   7     9'5"     Y  
 2   8     0'10"    Y  
 2   9    39'3"     Y  
 2  10     3'9"     Y  
 2  11    18'5"     N     1'6"
 2  12    11'1"     N     1'3"
 2  13    23'11"    N     1'8"
 2  14     5'0"     Y  
 2  15     1'6"     Y  
 2  16    19'3"     N     1'3"
 2  17     6'7"     Y  
 2  18    11'11"    N     0'10"


Phil's driving and approach game this week has been eminently cuttable. With average short game and putting he wouldn't be seeing the weekend, let alone hanging around the top of the leaderboard. The PGA Tour uses a stat called strokes gained to measure putting performance. It tells you how many strokes a player has gained on the field through his putting. In the first two rounds, Phil gained 9.4 shots on the field with his putting and he his score of 9-under was 12 shots better than the cut line. Throw in a really good short game this week and you can see that the difference between a weekend off and a two-shot lead can be attributed solely to his work around and on the green.
He's rolled in five putts of more than ten feet and another seven of at least six feet. Normally, this is a great week, but on a course where all of these putts are playing longer, it's incredible. His shortest miss has been from 11'1". In addition, something that strokes gained doesn't capture is that he hasn't left himself any work for the second putt. In a normal week that isn't a big deal. But with two, three and four-footers being missed with increasing regularity, the close misses have been another reason for Phil's success.
Mickelson has mentioned that on the slower-than-normal greens he's able to be more aggressive with longer putts, but that hasn't been the case for the rest of the field, as three-putt rate is significantly higher over last week as well. On putts of 35 to 45 feet, pros are three-putting 15% of the time this week compared to 8% last week.
Obviously, Mickelson's level of putting is unsustainable. Unfortunately, the PGA's stats page doesn't give a lot of context for Phil's performance over the first two days but we do know that Phil's strokes gained on the green through two rounds is better than the best putters for four rounds in most tournaments last season. So you'd have think that the putter will cool off and if Phil wins the tournament the tee-to-near-green game will have improved substantially over the weekend. If he does continue to putt well, it'll be highly unlikely he's ever had a week on the greens like this one.