There are places in America where you can't just go to a college basketball game on a whim. A trip must be planned, time off must be taken from work, and you need to get someone to watch the dog for a few days. No town has Scobey, Montana beaten in this regard. According to Google Maps, it's a seven hour and 49 minute drive from Scobey to Max Worthington Arena in Bozeman. It takes seven hours and 58 minutes to make the trip to the Betty Englestad Sioux Center in Grand Forks.
Basically, it involves a lot of work to see Division I college basketball in person. Scobey is the farthest from D-I basketball of any town in the lower 48.
Few, if any, college hoops fans know what this degree of isolation is like. And I'm guessing that few, if any, residents of Scobey care about college hoops. That's not to say that basketball isn't important here. The Scobey Spartans won Montana's Class C boys basketball title last title. (Technically, it was the Scobey/Opheim Spartans that won it, because like many rural Montana towns, nearby schools merge their sports programs in order have enough kids to form a team.) After going 22-1 last season, the Spartans are off to a 5-0 start in 2011 in their bid to advance to the state finals at Rimrock Auto Arena in Billings on the first weekend in March.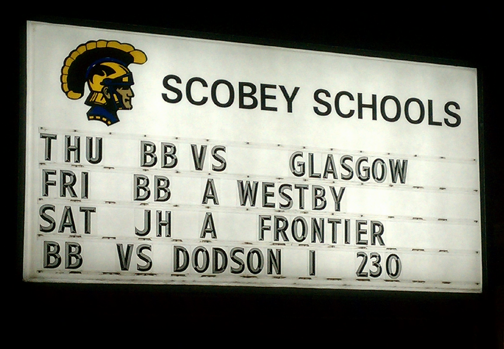 Unfortunately, the championship feat isn't noted on the entrance in to town, or even at the school itself. Nor is Scobey's unique geographical distinction relative to college basketball documented anywhere. Perhaps that is because Scobey is 13 miles south of the Canadian border and is not the type of place that anyone is going to encounter by accident. There is no tourist trade here. Everyone here knows what is happening with the Spartans and there is no need for a reminder.
If it's like other rural towns in the state, then Class C ball is like college basketball to you and me. There are only seven players from Montana on a Division-I roster. Just one of these, Montana State reserve Blake Brumwell, who played for the Big Sandy Pioneers, is a product of a Class C school. Just as most starters at the D-I level know that these will be their hoops-playing glory days (going pro in something other sports, you know), so too do hoopsters and fans at Class C schools. You basically have a 1-in-500 chance of earning a Division-I scholarship if you're a high school starter, and even less of a chance of seeing the floor regularly. (Brumwell has played 42 minutes so far this season.)
Seeing as how I happened to be in the area on unrelated business, I had to say I'd been to the place that few people could even imagine. And now I can. I did not have much time to spend there, but a 30-minute drive around town probably captured the essence of the place. It is dark and cold most of the winter and the snow covering the streets now isn't going away until March. They also have a street name consisting of a combination of vowels that is not duplicated by any other street in the country.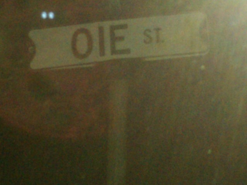 So that's it. Scobey, Montana. A simple place. A place where no college coach has ever been on a recruiting trip, but where the local media is nonetheless concerned about the boys basketball team's "marksmanship on the uncontested 15-footer".