(See this for the philosophy behind the kenpom.com player of the year, college basketball's first statistically-based player of the year award.)
It is my honor to announce that Ohio State freshman Jared Sullinger is the winner of the inaugural kPOY. This season, Sullinger posted a 120.4 offensive rating while using 27% of the Buckeyes' possessions while he was on the floor. The Buckeyes' center also ranked in the top 50 nationally in both offensive and defensive rebounding percentage, and fouls drawn per minute. This, combined with Ohio State's season-long excellence, allowed Sullinger to hold off an admirable post-season charge from UConn's Kemba Walker. Congratulations, Jared.
Final 2011 kPOY standings
1. Jared Sullinger, Ohio St. (.521)
2. Kemba Walker, Connecticut (.519)
3. Jimmer Fredette, Brigham Young (.487)
4. Nolan Smith, Duke (.472)
5. JaJuan Johnson, Purdue (.450)
6. Kawhi Leonard, San Diego St. (.421)
7. Jon Leuer, Wisconsin (.419)
8. Jordan Hamilton, Texas (.401)
9. Jordan Taylor, Wisconsin (.391)
10. Terrence Jones, Kentucky (.390)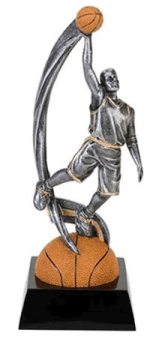 (Replica of kPOY trophy. Actual trophy may look different once it is produced. But I think a guy holding a basketball while jumping off a basketball is the way to go.)
In addition, there are conference kPOY's to dole out. Asterisks indicate a difference with the official conference player of the year winner, of which there are many. Thanks for following the kPOY all season long.
Big Ten… Sullinger*
Big East…Walker*
Big 12…Hamilton*
ACC…Smith
Pac-10…Derrick Williams, Arizona (.322)
SEC…Jones*
MWC…Fredette
CUSA…Jamarr Saunders, UAB* (.087)
A-10…Tu Holloway, Xavier (.209)
MVC…Toure Murry, Wichita State* (.136)
Horizon…Matt Howard, Butler* (.206)
WCC…Robert Sacre, Gonzaga* (.168)
CAA…Ryan Pearson, George Mason* (.178)
WAC…Tai Wesley, Utah State (.280)
Ivy…Keith Wright, Harvard (.039)
MAAC…Michael Glover, Iona* (.089)
Big West…Casper Ware, Long Beach State (.020)
MAC…Justin Greene, Kent State (.022)
Summit…Keith Benson, Oakland (.090)
SoCon…Andrew Goudelock, College of Charleston (.083)
Atlantic Sun…Scott Saunders, Belmont* (.163)
OVC…Kenneth Faried, Morehead State (.038)
Big Sky…Brian Qvale, Montana* (.010)
Patriot…Mike Muscala, Bucknell (.021)
NEC…Jamal Olasewere, Long Island* (.008)
Sun Belt…Tristan Thompson, North Texas* (.001)
Big South…Desmond Holloway, Coastal Carolina* (.005)
Southland…Gilberto Clavell, Sam Houston State (.001)
America East…Evan Fjeld, Vermont* (.007)
MEAC…Darrion Pellum, Hampton* (.000)
Independents…Jovonni Shuler, Savannah State (.000)
Great West…Ben Aird, Utah Valley* (.000)
SWAC…Kevin Galloway, Texas Southern* (.000)