by Ken Pomeroy on Wednesday, February 29, 2012
The second installment of log5-style conference tournament predictions features little in the way of surprises. To this this point, we've yet to see anything worse than a two-seed favored to win. The following seven conferences start their postseason festivities between tonight and Friday.
Patriot League

"It's all about the home court"
Feb. 29, Mar. 3, 7
All games at higher seed
 Semis Final Champ 1 Bucknell 96.7 83.5 52.1 2 Lehigh 97.0 81.0 40.0 3 American 87.4 17.8 5.5 4 Holy Cross 67.5 11.3 1.7 5 Lafayette 32.5 4.8 0.6 6 Army 12.6 0.9 0.09 7 Colgate 3.0 0.3 0.01 8 Navy 3.3 0.4 0.01 
Lehigh grades out as the best team in the Patriot 8, but the built-in home court advantage for every game of the tournament gives top-seeded Bucknell enough of a push to be the favorite.
America East

"Maine will…

by Ken Pomeroy on Tuesday, February 28, 2012
For record-keeping purposes, here's a list of the predictions for regular-season conference champions based on the simulator's work at the end of December. Whoever gets the top seed in their conference tournament is considered the conference champ.
So far, Valpo is the biggest longshot to accomplish this at 4%, but Michigan State is likely going to cash in a 1% chance in the Big Ten simulation that was blown up by Wisconsin. And hey, TCU is still technically alive for a one-seed in the Mountain West, where they didn't win or tie a single pre-conference simulation. I'll update this as events warrant.
Murray State (93%)
Belmont (93%)
Harvard (89%)
Iona (75%)
Kentucky (73%)
Long Beach State (69%)

Wisconsin (66%)
[Michigan State (1%)]

Lehigh…

by Ken Pomeroy on Monday, February 27, 2012
Tonight, the Big South tournament tips off with 2012 tournament play officially beginning at 7 pm ET at cozy Cameron Hall in Lexington, Virginia. That means it's time for the annual tradition of log5-style conference tournament predictions to begin.
For the uninitiated, I'll be using Bill James' log5 equation (it makes theoretical sense!) on the pythagorean rating from my system to give appropriate estimates on the chances of conference tournament participants advancing to each round.
Why do this? Mainly to know who should win, so that when they don't win you can express the appropriate level of surprise to your friends and co-workers. (Last year's most improbable occurrence as UConn winning the Big East tourney at 2.0%.) But we also use it because it works really well. Better than seeding anyway. Take a look at this chart based on last season's results:
by Ken Pomeroy on Friday, February 24, 2012
I've been concerned about the sample size of this week's work regarding 3P%. We're only looking at 8-10 games in each half of the conference season. As Kevin Pelton gently reminded me, there are fewer three-point shots than two-point shots and thus there will be more noise in the 3P%. Still, if there is so much noise over 8-10 games that you can't see a signal, just think about how much noise there is over six games. Consider that when your bracket goes up in flames.
Still, the offensive 3P% scatterplot shown yesterday was troubling. If the defense has no influence on 3P%, why does offensive 3P% show no relationship between the first and second half of conference play? The only solution is to simulate the conference season and see what the three-point percentage scatterplot would look like if team 3P% were truly independent from shot to shot.
But first,…

by Ken Pomeroy on Thursday, February 23, 2012
Continuing the discussion from yesterday, let's look at more scatterplots! We've looked exclusively at defense so far and in order to get a better understanding of how defense works, we need to look at both sides of the ball. Because clearly the offense has some control over what happens on each possession as well.
To get our bearings, let's look at something that the defense should have more control over compared to the offense - blocked shots. In all of the subsequent pairs of plots, the offensive plot will be on the left and the defensive version will be on the right. Here's blocked shot percentage: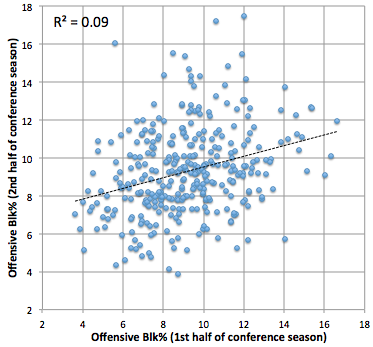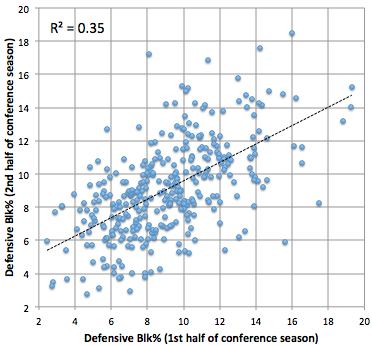 This makes some sense. Defensive block percentage is a better predictor of the future than offensive block percentage. Basically, a defense's ability to block shots is greater than the offense's ability to avoid them. Anthony…

by Ken Pomeroy on Wednesday, February 22, 2012
[Note: the graphs originally posted Friday were slightly in error. The corrected data has been posted and does not change the conclusions drawn. My apologies for the mistake.]
The data from last Friday's post has got me wondering about a lot of things and I hope it did the same for you. Mainly, how does defense work?
First, let's try to noodle through an explanation of why a team would have no skill in affecting its opponents' 3P%. If you are on offense, how do you decide when to take a three-pointer? Clearly, there's some standard for launching a shot. No coach goes into a game telling his team, "we're going to take 15 3-pointers tonight, regardless of what the defense gives us!" Players have a threshold for when to shoot.
On nights where the defense makes pressuring the ball a…

by Ken Pomeroy on Friday, February 17, 2012
I took last season's conference-only data for every team and split it into two halves. Then I compared each team's opponents' 3P% between the first half and second half of the conference season. I did the same for opponents' three-point attempt percentage (their percentage of field-goal attempts that are from three-point range). The following plots of that data should make it clear that opponents' three-point accuracy is largely out of a team's control.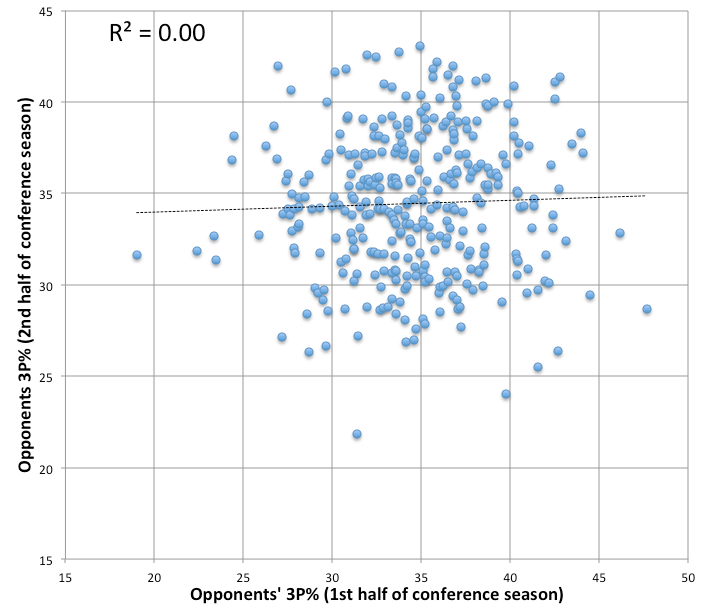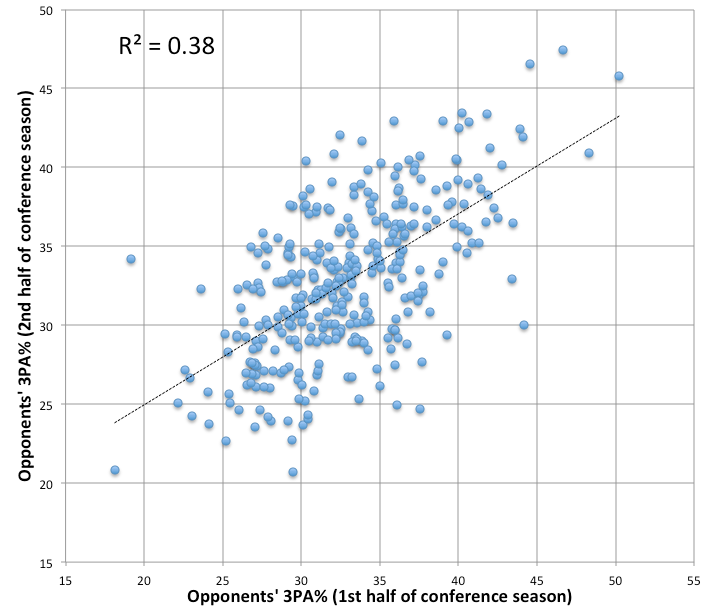 by Ken Pomeroy on Thursday, February 16, 2012
In this edition of Play-by-Play Theater, we investigate how long a team can possibly go without committing a foul. Let's face it, committing fouls can be fun. Just ask Texas Tech! As with eating candy, it's quite difficult to go long periods without just hammering an opposing player trying to advance the basketball towards the basket.
Last Thursday, New Mexico State did not commit a foul between the 2:25 mark of the first half to the 6:24 mark of the second half, a span of 16:01. Tweeter @wothism thought that might be some sort of record.
Well, our tweeter mistakenly thought the foul-free stretch was longer than it was, but even had it been 18:48 it still would not have cracked the top ten in my play-by-play database.
There have been 16 cases of a team going…

by Ken Pomeroy on Tuesday, February 14, 2012
One thing that bugs me about sports coverage is the stories. Not all stories, mind you. If you're not interested in 1000 words criticizing the coverage of Murray State's loss to Tennessee State last Thursday, skip what remains here and spend a few moments reading one of the following stories about Butler. There's this David Woods' piece about the Bulldogs' Crishawn Hopkins, and also Pete Thamel's look at the day-to-day operations of the program. Both are excellent stories worth your time.
It's the manufactured stories that attempt to explain the often-unexplainable variability in a team's performance that I take issue with. Some team salvages its season by going on a late winning-streak and the origins of the streak are explained by a players-only meeting or the team captain stepping up and being a leader, or a renewed emphasis on defense,…

by Ken Pomeroy on Friday, February 10, 2012
A frustrating thing about relying on counting stats to assess a player's value is that it's impossible to count things that don't happen. Yes, perhaps you can watch enough of a player to tell if he is good at not doing bad things, but realistically it is tough. How many people watch a player score a basket and say, "that was a really good job at not committing a turnover." It doesn't happen.
For this reason, John Wall was considered a viable player of the year candidate two years ago despite a prodigious turnover rate. Likewise, Kendall Marshall was anointed the best point guard in a America before the season despite a turnover problem. And of course both Wall and Marshall are great players, but it does seem like their tendency to commit turnovers went unnoticed.
In case you've been locked inside the Biodome lately, Kentucky's Anthony Davis…