by Ken Pomeroy on Sunday, January 22, 2012
UNLV beat New Mexico 80-63 in a 64-possession game Saturday night. I was there. This is what I saw.
Mike Moser is great offensive rebounder considering his shot selection.
I don't think there's a useful position descriptor for UNLV's Mike Moser. Whatever you want to call him, he was a busy man on Saturday night, taking 16 shots, grabbing 13 boards and recording two blocks. It's not Moser's activity that makes him unique, though. It's that his shot selection skews towards the perimeter, yet he's a major factor on the offensive glass. This is best explained in graph form.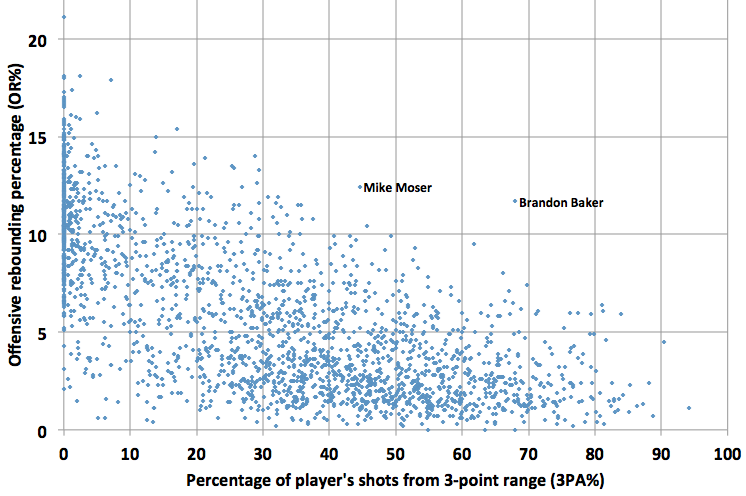 What you see here is the distribution of D-I players that have played at least 40% of their team's minutes this season, according to their OR% and 3PA%. Two players have separated themselves from the cloud, er, crowd. Moser and Belmont's Brandon Baker. Even though Baker takes a…

by Ken Pomeroy on Friday, January 20, 2012
It's time to release the first leaderboard of the nation's premier statistical individual award. For those new to these parts, the kenpom.com Player of the Year is based solely on statistical data. It's safe to say that "player of the year" means different things to different people. But I've tried to define in the way it's assumed to be defined for other more famous awards (Wooden, Naismith, etc.).
I hope we can agree that "player of the year" is not exactly "the best player in the country". If you put Thomas Robinson on Houston Baptist, he'd be the same player but would have no shot at winning any player of the year awards. So much like other POY awards, the kPOY combines personal achievement and team strength. "Player of the year" for these purposes is essentially "the player that means the most to a very good team". (If it…

by Ken Pomeroy on Thursday, January 19, 2012
The Ivy League likes to fancy its regular season as the "14-game tournament" because it doesn't have an actual tournament and thus its 14-game regular season determines the conference champion. Technically, though, this is a misnomer. The Ivy League regular season is comprised of 56 games. The West Coast Conference has a tournament, but I've been wondering if you could call the regular season a six-game tournament in Ivy terms.
The WCC is composed of nine teams, but it spits in the face of the normal distribution by having three teams - Saint Mary's, Gonzaga, and BYU, which I'll call the Top 3 - that are much stronger than the other six, a.k.a. The Bottom 6. Thus far the Top 3 have gone 13-0 against the Bottom 6. There are three games tonight and the Top 3 are heavy favorites in each. But…

by Ken Pomeroy on Tuesday, January 17, 2012
Welcome back to Play-by-Play Theater, the semi-regular feature where we mine play-by-play data from the past 2+ seasons to discover the wacky things that happen in college hoops. Last week, we beat consecutive fouls to death. Today's topic was suggested by a reader. Read on…
Mr. Pomeroy,

The host of a local sports call-in show used an example from the Kentucky-Tennessee women's game last night to exemplify why he "hated" women's basketball. At one point in the game, these two top-10 teams combined to miss 26 consecutive shots. He proclaimed that would never happen in a men's game with two top-10 teams. I agree on the surface, but am curious what the data say. Something similar to the foul analysis you did on the previous play-by-play theater may be interesting.

Jeremy
Louisville, KY (UK Wildcats fan)
Kentucky has some weird laws, but my favorite one is that if…

by Ken Pomeroy on Monday, January 16, 2012
After anointing Luke Martinez the best D-I player from North Dakota a couple of weeks ago, I thought it would be fun to figure out who had geographical bragging rights in each state and Canadian province on the continent. The table below summarizes that research. I've taken the kPOY formula out of the garage for the first time this season and used it to determine "best" in these cases. (We'll get to the issue of revealing the first kPOY top ten list later in the week.)
In case the trivia of the best player in each state doesn't excite you, I've added more trivia. The number of players from each state that have registered at least 10% of his team's minutes is listed along with how that translates to a per-capita (one million capitas, technically) figure. The list is sorted in decreasing…

by Ken Pomeroy on Friday, January 13, 2012
The player of the year race is not about which player is most valuable to his team. At least, not exactly. The evaluation includes a subjective component related to the quality of the player's team. That's why Grambling's Quincy Roberts has no shot at getting any fame from his performance this season. I'll try to do my small part to change that in the next few paragraphs, because there's a strong case that there's no player in the nation more valuable to his team.
First the backstory: Roberts was recruited to St. John's by then-head coach Norm Roberts (no relation) and spent his freshman season (way back in 2009) being the sixth man on a team that limped into the CBI with a 16-17 record. Roberts' stats screamed out transfer – the 6-5 wing posted an offensive rating of just 85 while using a mere 18% of the Red Storm's…

by Ken Pomeroy on Thursday, January 12, 2012
There have been some features added to the site over the past 2-3 weeks and I haven't gone out of my way to publicize them. I think most subscribers have discovered them, but for those that haven't, I'm providing a description of the improvements here.
InstaGamePrep – Now you can click on upcoming prediction on a team's schedule (or the game time on future FanMatch pages) and you'll get a page with the vital stats for each team. This will allow you to more easily identify unique matchups in any game. Surprised that Northwestern went almost 25 minutes before getting its first offensive rebound against Michigan last night? Well you shouldn't have. And while you could have determined that from clicking on each team's page, now you can see the data side-by-side. Use it before the game, or use it at a commercial break to get up to…

by Ken Pomeroy on Tuesday, January 10, 2012
Play-by-play theater is a feature (that I just started) where I use the comprehensive play-by-play archive from the past three seasons to hunt for extreme, and possibly silly, events that have occurred in a college basketball game. And who doesn't like extreme, and possibly silly, events? I do! I mean, I don't! I don't not like extreme, and possibly silly, events!
On Saturday, "BigH1313" of twitter fame, wondered which game listed in Friday's consecutive foul table featured ten consecutive fouls by the same team to start the game. The answer: Whoops! There actually wasn't such a game.
by Ken Pomeroy on Monday, January 9, 2012
As you may have noticed, Wisconsin inhabits the #2 spot in my ratings this morning despite having lost five of its first 17 games, including a home game to Iowa and a lopsided loss to Michigan in the past week alone.
This is an issue that is not going to go away this season. Even in a worst-case scenario for the Badgers, they are going to be highly ranked on this web site the rest of the season. This bothers many people and in order to manage the increasing number of inquiries into the matter, I have established what the tech geeks call a "FAQ document" for handy reference. What follows is that document. Please share with all parties you deem relevant to the matter.
Q: Why do you think Wisconsin is #2?
A: I actually don't think this. Please stop assuming that I, Ken Pomeroy, personally believe every…

by Ken Pomeroy on Friday, January 6, 2012
Utah beat Washington State 62-60 in a 60 possession, overtime game on Thursday night. I was there. This is was I saw.
Imperfection denied
Heading into last night, no team in the nation had a better shot at going winless in conference than Utah. Their inaugural Pac-12 contest was a 40-point loss to Colorado, who is (despite now leading the conference at 2-0) probably somewhere between the 7th and 11th best team in the conference. By the end of the night, the Utes were off the hook. As was the third-most likely team, Grambling who beat Alabama A&M 60-55. The bottom line is that it's very difficult to go through a conference slate winless, no matter how bleak the situation looks after non-conference play. The onus is now on Towson, who has a 29% chance of losing their last 15 CAA games. Despite being on a 34-game losing streak, I…