by Ken Pomeroy on Sunday, November 3, 2013
When the case is made for Kentucky being the best team in the country and possibly going 40-0, the argument is simply that they have an enormous amount of talent. Indeed, if you look at the most respected mock drafts, you'll find seven players on Kentucky's roster projected as first-round picks. But if you are predicting that Kentucky will have seven players picked in the first round, you are buying property at the intersection of Bad Prediction Boulevard and some other street named for bad predictions. Let me explain.
What we as a nation should be asking is, based on everything we know right now, how many first-round picks should we expect Kentucky to have? Fortunately, this is pretty easy to tackle. I went back and looked at the mock drafts from DraftExpress before the college basketball season for each of the last six years. (I'd use Chad Ford, too, but DraftExpress's archives were easily accessible.) After charting how those projections ended up doing, I ran a regression on the data to determine the chance of each pick being drafted in the first round. (A logistic regression against the square root of mock draft position if you care.)
by Ken Pomeroy on Saturday, October 26, 2013
Pre-season ratings have been posted for the upcoming season. When I first started doing these before the 2011 season, I thought I was pretty awesome. It was kind of a big deal to get every team's lineup data, mix in some limited recruiting info, and produce a rating that wasn't laughably horrible. But then Hanner came along with his lineup-based approach and TeamRankings did something that is probably fairly sophisticated, and my preseason ratings became the simplest algorithm possible without being a complete joke.
The system is largely the same as in recent seasons. It independently predicts a team's adjusted offensive and defensive efficiency. As a reminder, it uses information split into two categories:
by Ken Pomeroy on Wednesday, October 23, 2013
Conference USA radically changed its membership in the offseason, but one thing it didn't change is its refusal to conduct a preseason basketball poll for men's basketball. It's an odd tradition for a conference that suffers from an identity crisis. Motto for CUSA basketball: "Hey, we don't want you to know who might finish where in our conference!"
Well, for the second straight year, I won't let the conference get off that easy. Rice head coach Ben Braun deserves the opportunity to say to his local media, "It's an insult to think we are going to finish 16th in our conference." (Braun, by the way, looks great for a guy that has been coaching for 30 years.) And Southern Miss deserves to post on its web site, "Golden Eagles picked to win Conference USA." So yesterday, 36 rabid Conference USA enthusiasts tweeted their predictions for the conference table, and I have tabulated their votes. You can use these results to inform your preseason knowledge, or if nothing else, to learn which teams are competing in Conference USA this season.
by Ken Pomeroy on Sunday, October 20, 2013
You asked for it for years, America, and now you're getting it. The algorithm behind the Pomeroy Ratings is getting some tweaks to handle runaway scoring margins.
Back before anybody knew about my work, I would do ratings of all kinds of sports. You haven't lived until you've attempted to do ratings for the Western Hockey League. In those days, I had a method to give variable weight to games in my otherwise elementary least squares system. The weight was based on three ingredients - how close the game was expected to be, how close the game actually was, and when the game was played.
by Ken Pomeroy on Wednesday, September 25, 2013
Here's a histogram of the home team's scoring margin in all conference games over the past ten seasons.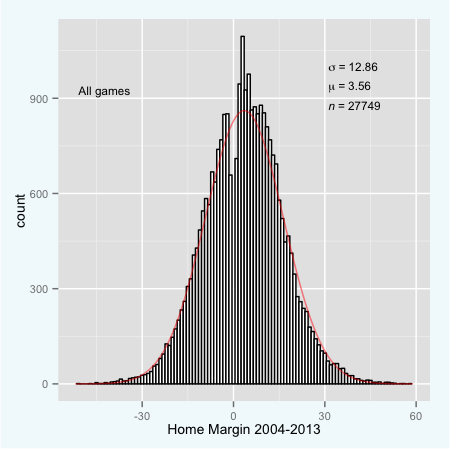 For the most part it has the look of a normal distribution. But it's not exactly normal. Most noticeably, there's the lack of data at the values of 1, 0, and -1. There are many fewer one-point games than Carl Friedrich Gauss would expect (as indicated by the red line depicting the normal distribution), and there are no zero-point games. I have a theory on the lack of zero-point games, and it goes like this: There are no ties in basketball. I think that's airtight. The lack of one-point games is slightly less-obvious, but it too is an artifact of how the game is played. There are fewer one-point games than two-point games (or three, four, five and seven-point games, for that matter).
by Ken Pomeroy on Sunday, September 15, 2013
There are many ways to measure one's legacy, but in my opinion one of the best is by how many people name children after you. Shaquille O'Neal's ultimate mark on humanity isn't his four NBA championship rings, his two scoring titles, the critically-acclaimed rap album "Shaq Diesel", or defeating Charles Barkley in the world's first and only five-hole golf match. It's the amount of college-aged kids currently named Shaquille or some derivative.
by Ken Pomeroy on Thursday, August 22, 2013
A lot of times, people who aren't numerically-inclined will ask me how advanced stats can help them. It's tough to come up with a useful response because statistical analysis is as much of an art as it is a science. That doesn't mean there aren't some basic things that analytics can do. Separating 2-point percentage from 3-point percentage and offensive rebounding from defensive rebounding are easy places to start.
But part of the art of analytics is trying to separate the real from the imagined. The thing I want to focus on here is the notion of a shooting slump. In general, people are too quick to throw the S-word around.
by Ken Pomeroy on Tuesday, July 23, 2013
At some point in the distant past, time of possession became a popular stat in football. Control the ball and you win the game. Eventually, analytically-minded people realized that wasn't true at all. You controlled the ball because you won the game. A lead added incentive to run the ball more often which drained the clock. But time of possession still persists as a staple of the football box score.
There hasn't been much work in this area on the basketball side. The only thing I've seen related to time of possession in the college game was this piece from David Hess from two seasons ago. Yet time of possession can give hoops fans useful information about a team's style.
One of the most simple and useful things to come out of advanced hoops stats is the calculation of a team's pace. It's best use is to give us some description of a team's style and it also helps us understand how counting stats can be skewed by the opportunities a team has on offense and defense.
by Ken Pomeroy on Monday, July 1, 2013
Normally in basketball, one needs to spend a possession on defense to earn the right to get the basketball, just as at the grocery store, you need to spend $4.99 to earn the right to consume a frozen pizza. When the opportunity presents itself to purchase two frozen pizzas for that same price, a rational human being jumps at it. Likewise, if one enjoys scoring points, the basketball version of the two-for-one would seem to be too good to pass up. Yet, coaches pass up the chance frequently.
Some have offered reasoning to do so. Stan Van Gundy has gone on record saying that deviating from one's normal offensive philosophy in these cases erodes the players' trust in the basic underpinnings of good team basketball, and that jacking up a quick shot may harm the culture of the team. The former Vermont assistant also gets upset at his wife when she brings home two frozen pizzas, claiming that stashing one in the freezer will contaminate the pint of Karamel Sutra it will share space with. Something about pepperoni osmosis.
by Ken Pomeroy on Wednesday, June 12, 2013
The 113th U.S. Open Championship starts tomorrow, though not much golf will be played on Thursday with heavy rain expected most of the day. This continues a trend at Merion where nearly a half a foot of rain has fallen over the past two weeks. The U.S. Open typically features the most difficult scoring conditions of the year primarily due to a combination of course length and firmness of greens and fairways. The latter defense has been removed by the weather and the former is also missing this week, what with Merion being the shortest U.S. Open course since 2004.
Because of this, scoring is expected to be among the lowest in U.S. Open history. Sportsbook.com lists an over/under of 270.5 (9.5 under par) on the winning score. Just once has a U.S. Open participant posted a better score – Rory McIlroy's winning 268 in 2011.